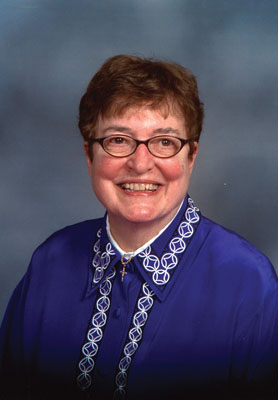 Birth Name: Sarah
Current Name: Brigid
Religious Name: Mary Brigid
Last Name: Carey
Mother's Name: Isabel (Morrison) Carey
Father's Name: Glen Carey
Hometown: Isabel, SD
Entry Date: November 1, 1950
Current Status: Deceased
Death Date: July 6, 2017
Additional Info: View Sister Brigid's Obituary
Education:
High School:
Mobridge High School, Mobridge, SD
College:
1953 - Presentation Junior College, Aberdeen, SD - Associate Teaching Degree
1967 - Northern State College, Aberdeen, SD - Bachelor of Science Degree in Education
1974 - Notre Dame, South Bend, IN - Master of Arts Degree in Religious Education
1984 - Gonzaga University, Spokane, WA - Master of Arts Degree in Spirituality
Biography:
Sister Brigid taught fourth through seventh grades in schools throughout South Dakota and Minnesota for thirty years. She earned a master's degree in religious education from Notre Dame and taught methods of teaching for the U.S. Army in Thailand and Germany. After earning a master's in spirituality from Gonzaga University in Spokane, WA, Sister Brigid did retreat work and gave spiritual direction to the divorced, widowed and separated at Immaculate Heart Retreat House in Spokane, WA. She went on to study clinical pastoral education at Deaconess Hospital in Spokane, WA and St. Joseph Hospital of Orange County, CA, after which Sister Brigid became the Hospice Chaplain at the Providence Medical Center in Portland, OR.
In 2008, Sister Brigid moved to Laguna Woods, CA, where she served in various ministries. In the Fall of 2016, Sister Brigid moved back to Aberdeen, SD where she was active in full-time prayer ministry at Presentation Convent.
1953-1957 - St. Mary, Sioux Falls, SD - Fourth Grade
1957-1960 - Sacred Heart, Aberdeen, SD - Fifth Grade
1960-1962 - St. Ann, Humboldt, SD - Fifth and Sixth Grade
1962-1964 - St. Stephen, Anoka, MN - Seventh Grade
1964-1967 - Sacred Heart, Aberdeen, SD - Sixth Grade
1967-1969 - St. Mary, Willmar, MN - Fifth Grade
1969-1983 - St. Martin, Huron, SD - Fifth and Seventh Grade
1984-1985 - Immaculate Retreat Center, Spokane, WA - Spiritual Growth
1986-2007 - Providence Medical Center, Portland, Oregon - Chaplain
2007-Present - St. Nicholas Parish, Laguna Woods, CA - Vice President of St. Vincent DePaul Ministry, Eucharistic Minister to nursing homes, Spiritual Director for the Catholic Women's Society, Prayer Ministry