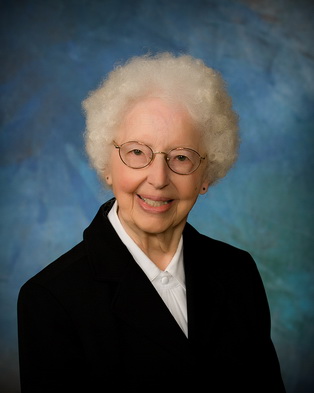 Birth Name: Mary
Current Name: Elaine
Religious Name: Mary Elaine
Last Name: Goodell
Mother's Name: Cecil (Springer) Goodell
Father's Name: Harry G. Goodell
Hometown: Parker, SD
Entry Date: August 1, 1944
Current Status: Deceased
Death Date: March 27, 2022
Additional Info: View Sister Elaine's Obituary
Education:
High School:
Parker High School, Parker, SD
College:
1949 - Notre Dame Junior College, Mitchell, SD - Associate Teaching Degree
1960 - Alverno College, Milwaukee, WI - Bachelor of Arts Degree in Music
1968 - Catholic University of America, Washington, DC - Master of Arts Degree in Music
1972 - Catholic University of America, Washington, DC - Doctorate in Music
Biography:
Sister Elaine served for 17 years in the Presentation education ministry in South Dakota. She also served in higher education as chairman of the music department at Presentation College from 1972-1980. Sister ministered as a chaplain in Austin, TX, and as director of pastoral care at (Avera) St. Luke's Hospital, Aberdeen, SD, before beginning her current ministry as a staff chaplain at the Healthcare Chaplaincy, Inc., and Memorial Sloan-Kettering Cancer Center, New York City, NY. In 2016, Sister Elaine received the American Cancer Society Lane W. Adams Quality of Life Award, a prestigious national honor for cancer care and commitment.
1949-1958 - St. Theresa, Huron, SD - Music Teacher
1960-1964 - Notre Dame, Mitchell, SD - Music Teacher
1964-1965 - Holy Name , Mitchell, SD - Music Teacher
1965-1969 - St Mary, Sioux Falls, SD - Music Teacher
1972-1980 - Presentation College, Aberdeen, SD - Music Department Chair
1981-1983 - Seton Medical Center, Austin, TX – Chaplain
1983-1985 - (Avera) St. Luke's Hospital, Aberdeen, SD - Pastoral Care
1985-2018 - Memorial Sloan-Kettering Center, New York City, NY - Chaplain
2018 - Retired and serving in Prayer Ministry