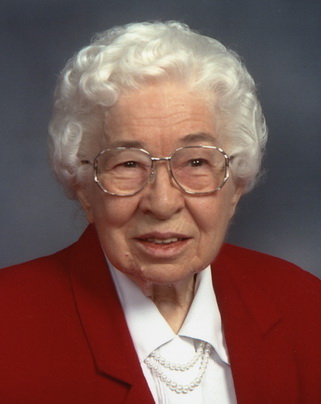 Birth Name: Margaret Anne
Current Name: Margaret Anne
Religious Name: Mary Carel
Last Name: Talbott
Mother's Name: Clara (Heller) Talbott
Father's Name: Edward Lee Talbott
Hometown: Artesian and Dell Rapids, SD
Entry Date: September 8, 1946
Current Status: Deceased
Death Date: October 10, 2019
Additional Info: View Sister Margaret Anne's Obituary
Education:
High School:
Colman High School, Colman, SD
College:
1949 - Notre Dame Junior College, Mitchell SD - Associate Teaching Degree
1952-1962 - Presentation College, Aberdeen, SD
1965 - Northern State College, Aberdeen, SD - Bachelor of Science Degree in Education
1974 - University of South Dakota, Vermillion, SD - Master of Natural Science Degree
Biography:
Sister Margaret Anne taught for 25 years in elementary schools in Jefferson, Milbank, Sioux Falls and Humboldt, SD and Mound, MN. She also taught in secondary schools in Aberdeen and Dell Rapids, SD, and Mound, MN.
Sister served as a nurse's aide prior to beginning 24 years in pastoral care ministry at (Avera) McKennan Hospital, Sioux Falls, SD; Holy Rosary Hospital, Miles City, MT; and (Avera) St. Luke's Hospital and (Avera) Mother Joseph Manor, Aberdeen, SD.
Retiring from active ministry in 1995, Sister volunteered for several years as a sacristan at (Avera) Mother Joseph Manor Chapel and served part-time at Presentation Convent. She coordinated the Presentation Sisters' Prayer Line Ministry for 16 years, before becoming active in full time prayer ministry at Avera Mother Joseph Manor.
1950-1952 - St. Peter, Jefferson, SD - First and Second Grade
1952-1953 - St. Lawrence, Milbank, SD - First and Second Grade
1954-1956 - St. Mary, Sioux Falls, SD - Fifth Grade
1956-1957 - Our Lady of the Lake, Mound, MN - Fourth Grade
1958 - Presentation College, Aberdeen, SD - Chemistry Lab Assistant
1958-1960 - St. Ann, Humboldt, SD - Third and Fourth Grade
1960-1964 - St. Mary, Sioux Falls, SD - Third, Fifth and Sixth Grade
1964-1965 - Sacred Heart, Aberdeen, SD - Seventh Grade
1965-1967 - Roncalli High School, Aberdeen, SD - Teacher
1966 - Presentation College, Aberdeen, SD - Chemistry Lab Assistant
1967-1975 - St. Mary, Dell Rapids, SD - Teacher and Office Assistant
1975 - Rest Home, Albuquerque, NM - Substitute Supervisor
1975-1976 - Holy Trinity, Winsted, MN - Teacher and Office Assistant
1976-1978 - Hope Community, Little Falls, MN - Office Assistant
1978-1987 - McKennan Hospital, Sioux Falls, SD - Nurse's Aide and Pastoral Care
1987-1989 - Holy Rosary, Miles City, MT - Director of Pastoral Care
1990 - (Avera) St. Luke's Hospital, Aberdeen, SD - Pastoral Care
1990-1996 - Presentation Convent, Aberdeen, SD - Prayer Ministry
1995-2003 - (Avera Mother Joseph Manor, Aberdeen, SD - Pastoral Care and Volunteer Sacristan
2003-2019 - (Avera) Mother Joseph Manor, Aberdeen, SD - Prayer Ministry