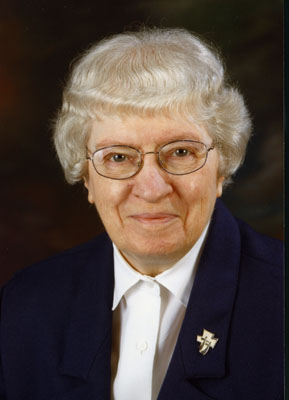 Birth Name: Dolores
Current Name: Marie Patrice
Religious Name: Marie Patrice
Last Name: Moriarty
Mother's Name: Mary (Marso) Moriarty
Father's Name: Edward P. Moriarty
Hometown: Marion, SD
Entry Date: September 8, 1946
Current Status: Deceased
Death Date: January 11, 2016
Additional Info: View Sister Marie Patrice's Obituary
Education:
Grade School:
St. Mary's School, Marion, SD
High School:
Marion High School, Marion, SD (1941)
College:
1943 - Norte Dame Junior College, Mitchell, SD - Associate Teaching Degree
1960 - College of St. Catherine, St. Paul, MN - Bachelor of Arts Degree in English
1966 - Marquette University, Milwaukee, WI - Master of Arts Degree in English
1973 - University of Sarasota, Sarasota, FL - Doctorate Degree in Education
Biography:
Teaching elementary students for over 15 years, Sister Marie Patrice served in Montrose, Sioux Falls, Jefferson and Dell Rapids, SD and Mound, MN. She went on to teach at Presentation Junior College, Aberdeen, SD for 12 years, followed by six years as academic dean. Sister later served as director of the Newman Center ministry at Dakota State College, at the same time serving as director of religious education at St. Thomas Parish, Madison, SD. Sister Marie Patrice retired to Presentation Convent in 1995. Her mission now is praying for peace in the world, for young people and for all who need prayers.
1943-1946 - Montrose Public School, Montrose, SD - First Grade
1949-1953 - St. Mary, Sioux Falls, SD - First Grade and Music
1953-1954 - St. Peter, Jefferson, SD - First and Second Grade
1954-1960 - Our Lady of the Lake, Mound, MN - Fifth and Sixth Grade
1960-1979 - Presentation Junior College, Aberdeen, SD - English, Journalism and Academic Dean
1979-1980 - St. Mary, Dell Rapids, SD - English, Journalism and Religion
1981-1986 - Dakota State College and St. Thomas, Madison, SD - Newman Center Director and Religious Education Director
1986-2016 - Presentation Convent, Aberdeen, SD - Prayer Ministry