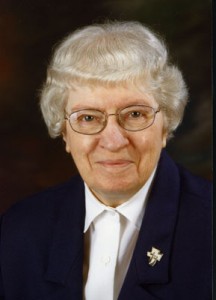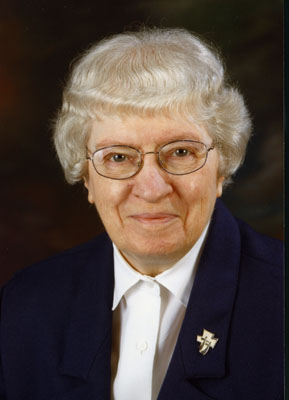 SERVICES for OUR DEARLY DEPARTED
Born to Life – January 13, 1923
Born to Eternal Life – January 11, 2016
GREETING the BODY 4:00 PM – Thursday, January 14, 2016
WAKE SERVICE 6:30 PM – Thursday, January 14, 2016
FUNERAL LITURGY 11:00 AM – Friday, January 15, 2016
Presider: Rev. Joseph Sheehan
Mass of Resurrection for Sister Marie Patrice Moriarty will be at 11:00 a.m. Friday, January 15, 2016, in Blessed Sacrament Chapel at Presentation Convent, Aberdeen, SD. Reverend Joseph Sheehan, will be celebrant and homilist. A Scriptural Wake service will be Thursday, January 14, at 6:30 p.m. with visitation from 4:00 to 6:30 p.m.
Sister Marie Patrice Moriarty, 92, a Sister of the Presentation of the Blessed Virgin Mary, died January 11, 2016 at Mother Joseph Manor. Spitzer-Miller Funeral Home, 1111 S Main Street, is in charge of arrangements. Burial will be at the Sacred Heart Catholic Cemetery.
Dolores Marguerite, Sister Marie Patrice, was born January 13, 1923 in Marion, SD to Mary (Marso) and Edward Moriarty. She attended elementary school in Marion, SD and graduated from Marion High School in 1941. Dolores taught first grade in the Montrose Public School for three years before she entered the Presentation Convent September 8, 1946. She made her first profession of vows May 1, 1949. She earned a Bachelor's of Arts Degree in English from the College of St. Catherine in 1960, a Master's Degree in English from Marquette University, Milwaukee, WI in 1966 and a Doctorate of Education from the University of Sarasota in 1973. Sister ministered in diocesan Catholic Schools as a primary teacher (1949-1960) in Sioux Falls, Jefferson, SD and Mound, MN. She returned to Aberdeen in 1960 and taught Journalism at Presentation College until 1970. She was named College Academic Dean from 1973 to 1979. Sister Marie Patrice taught Religious Education and did parish work at Dakota State College and St. Thomas, Madison, SD from 1981-1986. She returned to Presentation Convent for prayer ministry from 1986 to the present.
Sister is survived by her Presentation Sisters in Community, nieces and nephews. She is preceded in death by her parents, Edward and Mary Moriarty, two sisters, Mercedes Witte and Bernadette Whalen and three brothers, Bernard, John and Nicholas (twins) Moriarty. Knights of Columbus will serve as active pallbearers.