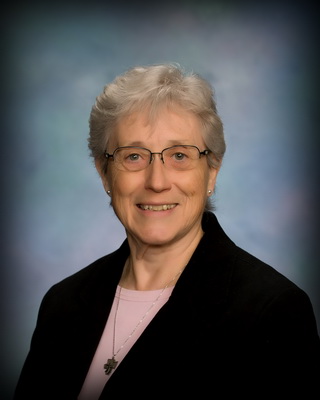 Birth Name: Phyllis
Current Name: Phyllis
Religious Name: Mary Genevieve
Last Name: Gill
Mother's Name: Genevieve (Schamp) Gill
Father's Name: Lester L. Gill
Hometown: Timber Lake, SD
Entry Date: September 5, 1955
Education:
High School:
Timber Lake High School, Timber Lake, SD
College:
1962 - Presentation Junior College, Aberdeen, SD - Associate Teaching Degree
1970 - Northern State College, Aberdeen, SD - Bachelor of Science Degree in Elementary Education
1980 - Augustana College, Sioux Falls, SD Bachelor of Science in Social Work
1982 - Loyola University, Chicago, IL - Master of Arts in Pastoral Studies
1991 - University of Nebraska, Omaha, NE - Master of Arts in Social Work
Biography:
Sister Phyllis has earned degrees in education, social work and pastoral studies. She has taught elementary school as well as courses at Presentation College in Aberdeen, SD. Sister has ministered at the Crow Creek reservation, a parish in Palatine, IL, Catholic Social Services and Berakhah House in Sioux Falls, SD. Sister Phyllis served on the Presentation Sisters' community leadership team and took part in the North American PBVM's collaborative ministry at the St. Joseph's Rebuild Center, New Orleans, LA. She is currently the Vocation Director.
1958-1961 - St. Stephen, Anoka, MN - Primary Grades
1961-1962 - Holy Family, Mitchell, SD - Primary Grades
1962-1964 - Our Lady of the Lake, Mound, MN - Second and Seventh Grade
1964-1969 - St. Mary, Willmar, MN - Primary Grades
1969-1972 - Sacred Heart, Miles City, MT- Intermediate Grades/Interim Principal
1972-1976 - St. Johns & St Catherine Indian Mission, Pierre & Harrold, SD - Parish Worker & CCD
1976-1982 - Catholic Social Services, Sioux Falls, SD - Human Services
1981-1982 - University Hospitals, Minneapolis, MN - Clinical Pastoral Education
1983-1989 - St. Thomas of Villanova, Palatine, IL - Coordinator of Care Program
1989-1990 - The SHELTER, Omaha, NE - Part-time Night Tech while at UNO
1991-1995 - Catholic Family Services, Aberdeen, SD - Part-time Counselor
1991-1993 - Presentation College, Aberdeen, SD - Social Work Program
1993-1995 - Presentation Convent, Aberdeen, SD - Vocation Director
1995-1999 - Berakhah House, Sioux Falls, SD - Assistant Caregiver
1999-2006 - Catholic Family Service, Mitchell, SD - Family Service Therapist
2004-2010 - Presentation Convent, Aberdeen, SD - Vocation Director and Leadership Council
2010-2012 - Lantern Light Ministry, New Orleans, LA - Working with the Homeless
2012-Present - Presentation Convent, Aberdeen, SD - Vocation Director