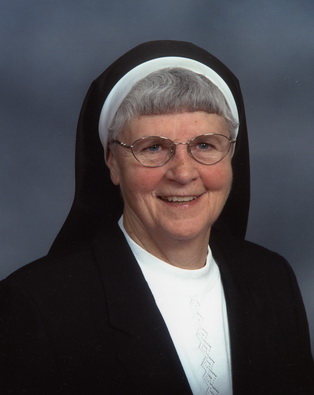 Birth Name: Roch
Current Name: Roch
Religious Name: Ruth Ann
Last Name: Whittaker
Mother's Name: Myrtle (Koehler) Whittaker
Father's Name: Charles Whittaker
Hometown: Mound, Minn.
Entry Date: September 5, 1954
Current Status: Deceased
Death Date: November 18, 2019
Additional Info: View Sister Roch's Obituary
Education:
High School:
Mound High School, Mound, Minn.
College:
1959 - St. Joseph School of Nursing, Mitchell, SD - Practical Nurse Certificate
1962 - Presentation Junior College, Aberdeen, SD - Associate Teaching Degree
1969 - Northern State College, Aberdeen, SD - Bachelor of Science Degree in Elementary Education
Biography:
After serving as a staff nurse, Sister Roch dedicated 20 years to the Presentation Sisters' education ministry in South Dakota, Minnesota and Montana, and spent many summers working in Presentation Sisters' hospitals in the region. In 1980, Sister Roch returned to healthcare ministry as a Mission Coordinator at Holy Rosary Hospital, Miles City, MT. She went on to serve as Director of Mission Effectiveness at (Avera) McKennan Hospital, Sioux Falls, SD. In 1996, Sister embarked on a new ministry to care for the elderly in parishes in Dubuque, IA; Northfield, MN and Dell Rapids, SD. Sister returned to Presentation Convent in 2007, and is currently serving in full-time prayer ministry.
1958-1960 - St. Joseph's Hospital, Mitchell, SD
1960-1961 - (Avera) St. Luke's Hospital, Aberdeen, SD - Staff Nurse
1961-1963 - St. Teresa, Huron, SD - Fourth Grade
1963-1965 - St. Stephen, Anoka, MN - Third Grade
1965-1966 - Holy Family, Mitchell, SD - Fourth Grade
1966-1972 - St. Mary, Dell Rapids, SD - Fourth Grade
1972-1976 - St. Stephen, Anoka, MN - Fourth Grade
1976-1980 - Sacred Heart, Miles City, MT - Third Grade
1980-1982 - Holy Rosary Hospital, Miles City, MT - Director of Mission Effectiveness
1982-1996 - (Avera) McKennan Hospital, Sioux Falls , SD - Director of Mission
1996-1998 - Stone Hill Adult Center, Dubuque, IA - Support Staff Nurse & Pastoral Care
1998-1999 - Dudley Family, Northfield, MN - Home Care
1999-2007 - St. Mary, Dell Rapids, SD - Parish Elder Care
2007-Present - Presentation Convent, Aberdeen, SD - Full-time Prayer Ministry