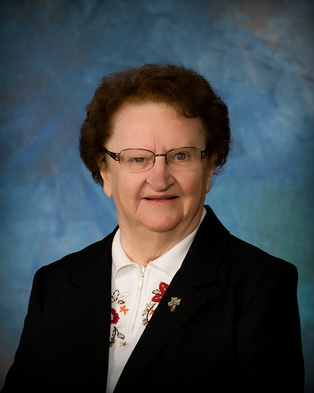 Birth Name: Suzanne
Current Name: Suzanne
Religious Name: Mary Suzanne
Last Name: Cotter
Mother's Name: Regina (Collins) Cotter
Father's Name: Joseph Cotter
Hometown: Dell Rapids, SD
Entry Date: September 8, 1948
Current Status: Deceased
Death Date: September 18, 2022
Additional Info: View Sister Suzanne's Obituary
Education:
High School:
St. Mary High School, Dell Rapids, SD
College:
1960 - St. Catherine University, St. Paul, MN - Bachelor of Arts Degree in English
1969 - University of Notre Dame, South Bend, IN - Master of Arts Degree in Communication Arts
Biography:
Sister Suzanne taught in various schools in South Dakota for over 20 years. She ministered in Mission Effectiveness for (Avera) Presentation Health System and as a pastoral and education associate in Sioux Falls for ten years. Sister helped establish Marian House in Sioux Falls, which was a vocation, formation and hospitality house that hosted many different retreats, book clubs and small groups doing mission projects. Sister currently resides in Sioux Falls, and serves on a number of boards and is active in prayer ministry.
1951-1952 - Holy Family, Mitchell, SD - Second Grade
1952-1954 - St. Teresa, Huron, SD - Seventh Grade
1954-1960 - Sacred Heart, Aberdeen, SD - Eighth Grade
1960-1961 - St. Thomas, Madison, SD - Seventh and Eighth Grade
1961-1963 - St. Mary High School, Salem, SD - Teacher
1963-1965 - Notre Dame High School, Mitchell, SD - Teacher
1965-1988 - O'Gorman High School, Sioux Falls, SD - Teacher Chairperson of Theology
1971-1975 - St. Lambert, Sioux Falls, SD - Religious Education
1972-1988 - O'Gorman, Sioux Falls, SD - Teacher and Religious Education
1988-1990 - (Avera) Presentation Health System, Sioux Falls, SD - Mission Effectiveness
1990-1998 - St. Michael, Sioux Falls, SD - Pastoral and Education Associate
1990-2007 - O'Gorman, Sioux Falls, SD - Latin Instructor
2004 - Marion House, Sioux Falls, SD - Family Services and Heart Hospital Ethics Committee
2004 - 2017 - Prayer Ministry and Committee Member, Sioux Falls, SD - Prayer Ministry, PBVM Catholic Schools Scholarship Committee and Avera Heart Hospital Ethics Committee