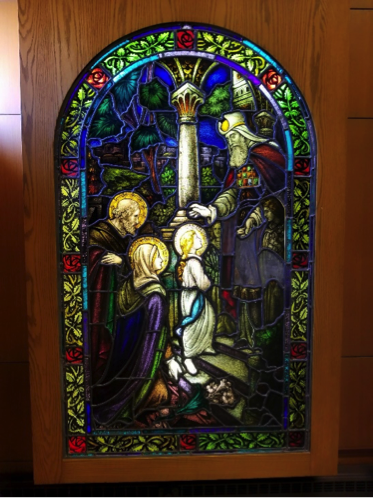 Stained glass window depicting the Presentation of Mary
at the Temple located in the Aberdeen Presentation Convent.
November 21st is the day each year that Presentation Sisters across the world celebrate a special feast day of the Presentation of Mary at the temple. The celebration of Presentation stands as a reminder that the Aberdeen Presentation Sisters carry on Mary's joy for God and life with their pledge to go forth in any part of the world in joyful service, wherever they are needed.
According to an apocryphal text, Mary's parents, Anna and Joachim, had long prayed for a child, promising God to have the child reared in the temple should one be born to them. According to the writing, when Mary was three her parents presented her to the priest at the temple; the priest "set her down upon the third step of the alter and the Lord God sent grace upon her; and she danced with her feet, and all the house of Israel loved her." "And Mary danced with joy" at being in the House of the Lord.