Warm a Neighbor Event a Success
Thank you for donating brand new hats, gloves, mittens and scarves for men, women and children. The Presentation Sisters and their outreach to Hispanic immigrants, called Caminando Juntos, was blessed by your generosity during January!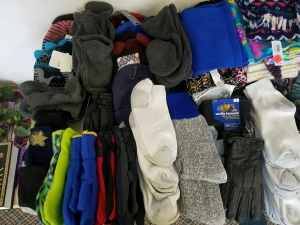 "There was one time that a young couple came looking for gloves. They were walking and it was a snowy day. They found gloves and the girl was really excited that we had some new shoes, the ones she had were really wet and old. They were so grateful."
"One day at the end of the day this pregnant women and her little girl came, They walked to come to our ministry they even got lost before finding our office. They needed some assistance. We provided them with hats, gloves, scarfs, blanket and shoes. They were really happy. That moment was so heartwarming."
The items you share provide a kindness that leads to ministry with the Hispanic families and individuals that come to receive help as they learn about their new surroundings and language. Because of your donation of more than 1,000 winter accessory items, including warm socks, many people are experiencing Christ's love firsthand in a very tangible way.
Beyond the donations, Warm a Neighbor also brings people's awareness to the program's other ministry opportunities, like volunteering and using their Spanish language skills.
Thank YOU for showing Christ's love during January and being the hands and feet of Jesus!