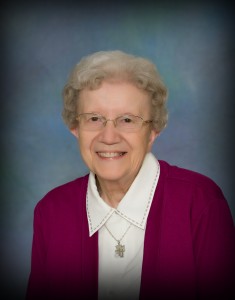 Sister Teresita Schaefbauer 

Dawn Maas, Cojourner & Convent Employee 
First Sunday of Lent
 A Lenten Journey Inward
"This is the time of fulfillment. The kingdom of God is at hand. Repent and believe in the Gospel." (Mark 1:15)
This pre-Easter season invites us to discover where we may be weak or lacking in the spirit of Jesus. This is not a time to give up or avoid eating candy, or going to movies. It is a time to diagnose our spiritual growth. We ask ourselves, "How do I do that? Am I spending enough time in prayer? Am I listening to the Holy Spirit within before I make decisions?" Getting answers does not center on what we have done, but rather what we are; and what we hope to become. It is internal. I am seeking fulfillment from the inside with the help of the Holy Spirit, rather than doing something from the outside, like giving up eating candy during Lent.
Every phrase and every word of today's Gospel packs a powerful message: Get ready. The Christ has come. He calls us to eternal life. Repent is the operative word for this First Sunday in Lent. It literally means to re-think; to put some quiet time aside; to stop; to interrupt our routines; to reassess and adjust our priorities and our behavior. Jesus understands our natures. He knows that we constantly need to reorder our lives to bring them in line with God's plan for us. He knows we must constantly repent to get ourselves right with God. That's why we have Lent.
Blessings to you as you embark on your Lenten journey! May it be a time of growth and grace.
Prayer
Grant, Almighty God, through
the yearly observances
Of Holy Lent,
That we may grow in understanding
Of the riches hidden in Christ
And by worthy conduct pursue
Their effects.
Through our Lord Jesus Christ, your son
Who lives and reigns with you in the unity
Of the Holy Spirit, one God, forever and ever.
Amen