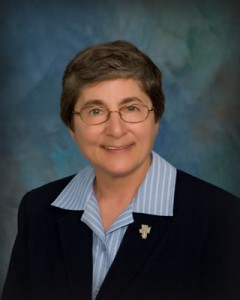 Sister Lynn Marie Welbig
Tuesday of the Fifth Week of Lent
"You will surely die in yours sins unless you come to believe that I AM." John 8:24
In today's scriptures two meaningful passages, one from each Testament, build on one another.  In the First (Old) Testament Israel is struggling in the desert on the way from slavery in Egypt to the Promised Land.  Tired, hungry and frustrated, the people cry out against Moses and especially against their "saving" God who seems to have forsaken them.   Added to their frustration with the desert travelog, they are plagued by poisonous serpents whose bites are severely painful and often deadly.  There's nothing like desperation to bring us to our knees.   Israel, desperate and helpless, turns itself around and cries to God for deliverance…one more time…and in response to their own infidelity.  Of course, their saving God is faithful to God's covenant with them…"You will by My people!"  God instructed Moses to mount one of the snakes on an upright as a sacrament of healing for those bitten.
From this episode the whole world has adopted that symbol of healing, the saraph serpent mounted on a pole.
In today's reading from the Second (New) Testament Jesus warns those stuck in their stubborn pride that their attitude is deadly.  "You will surely die in yours sins unless you come to believe that I AM."
Many people today have forfeited faith in God, believing freedom is found in unburdening themselves with what religious faith asks.  These are strong individualists, free thinkers, practical philosophers who have developed a "civil religion" free of God.   They dismiss organized religion in the name of freedom.
This movement reminds us to consider the nature of the freedom of the children of God.  The Israelites in the desert groused against God and claimed their independence until their human resources were exhausted.  Their independence brought them to their knees when they found themselves unable to self-rescue.  This was a sacramental moment for Israel.
If political virtue, unburdened by the tenets of religious faith, leads to noble and fulfilled lives, one would expect there to be less greed, less violence, less interpersonal abuse and oppression in today's techno-driven world.
As we approach the sacred days of Holy Week and Good Friday, it is well to remember with John of the fourth gospel, "Just as Moses lifted up the serpent in the desert, so must the Son of Man be lifted up, so that all who believe may have everlasting life IN HIM
[emphasis added]."  John 3: 1-15