Jodi Schwan wrote and published the following article for the Sioux Falls Argus Leader
jschwan@sfbusinessjournal.com 11:39 a.m. CDT March 23, 2016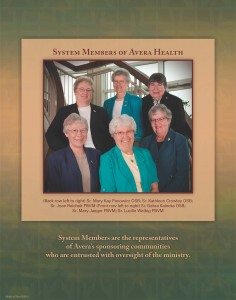 Nuns Ensure Avera Health Stays True To Mission
A high-ranking executive at Avera Health plans to walk into a meeting sometime soon and quote from a recent snippet in Reader's Digest.
It tells the satirical story of an executive who decided that to equalize pay between genders all employees would see a wage commensurate with 78 percent of what they should be earning.
"I think I'm going to suggest that (to Avera leadership). I bet they don't get Reader's Digest, most of them. I'm going to say if we really want to cut, everybody should get equal pay. They'll laugh. But they'll think about it."
That's the amused, sage voice of Sister Joan Reichelt, Avera's executive vice president of culture.
For years, she was the only woman in top leadership meetings. She's still the only female executive vice president.
"I like to tweak their conscience a bit," she said, trying not grin as she talked about her relationship with the executive team. "Not that I don't need mine tweaked sometimes."
She paused.
"It's an advantage to be a sister."
Reichelt is joined by five fellow nuns as Avera system members, with responsibility that includes appointing board members and the CEO.
SFBJ: Get more Sioux Falls Business Journal news and insights on Facebook and @sfbj on Twitter.
Major decisions at Avera do not occur without their approval. They are tasked with providing strategic direction to the system, which has grown to 16,000 employees in five states.
They are stewards of the finances and responsible for ensuring Avera's corporate actions reflect the principles rooted in its Roman Catholic foundation.
While they keep a low public profile, their effect on Avera is a profound one.
"They make sure we're not just in health care as a business," CEO John Porter said. "It is a ministry. Nobody will call you back to that quicker than the sponsors who have been here 100 years. And it's a good thing."
Setting direction
The Benedictine Sisters of Yankton and the Presentation Sisters of Aberdeen both came to Dakota Territory in the late 1800s.
They immigrated with a mission to serve early settlers through education and health care. In early years, the Presentation sisters turned convent rooms into hospital rooms in response to a diphtheria epidemic. The ministry became Avera St. Luke's Hospital. The sisters were asked to establish McKennan Hospital in Sioux Falls after Helen Gale McKennan left money in her will to fund it.
During the same time, Bishop Thomas O'Gorman asked the Benedictine Sisters to establish the Hospital of the Sacred Heart in Yankton. By the late 1980s, both orders had grown health care systems, and in 1998 they came together to form Avera Health.
Each order now chooses three sisters to serve as system members.
In the early days, "sisters were nurses at the bedside. They were more hands-on," said Sister Debra Kolecka. "And with fewer members in each of our communities, that isn't reality any more. But the ways we do and can influence Catholic health care and Avera is from a management level, from a board level."
The six system members meet monthly with Porter. They attend quarterly Avera board meetings and serve on a variety of other boards and committees in communities across the Avera footprint.
"They're very informed," said Avera Health board chair Ken Karels, CEO of Great Western Bank. "They're steady to the mission, but they're also open to change as needed. I was very impressed how informed they are about difficult changes going on in the health care industry right now. They're very smart and have a sense of humor."
The three Benedictine sisters live in their Yankton monastery. The Presentation sisters live in Sioux Falls and each has her own apartment. They wear business attire at Avera functions and go out together to celebrate birthdays or socialize.
They range in age from their mid-60s to mid-80s.
"We've been together long enough that nobody's afraid to talk," Sister Lucille Welbig said, as they met for a group interview.
Reichelt chimed in.
"Sometimes there are six talking at once."
Another sister spoke up.
"All with good ideas."
And another replied.
"With nobody listening."
They all laughed.
The group easily reaches agreement on several guiding beliefs for Avera, however.
They are intensely focused on the people connected to their organization, from those seeking care to the employees delivering it.
"They're very focused on access, quality care and rural communities," Porter said. "The perspective of the sisters in the health ministry is an acknowledgment we can't necessarily cure everybody, but we can heal everybody. So you come with a healing dimension, and we don't lose that."
He points with pride to situations when other health care providers decided economically they couldn't stay in a community.
"We have a picture of one of them loading up their clinic on a flatbed truck and driving out of town, and within 24 hours we were there," Porter said. "That's what the sisters would want."
The sisters urged Avera to commit to mental health care when many providers were walking away from it. They have invested in nursing homes in spite of the slim margins. They approved $21 million in charity care last year. They urge leadership to value aesthetics during construction projects, thinking of patients and staff.
"Whatever we do in buildings, they are beautiful and bring in nature, so it's a good work environment," Sister Mary Kay Panowicz said. "The artwork and design … is just fantastic."
Maintaining such a mission in a financially viable way is not always easy, Porter acknowledged.
"It's been a challenge for us. You have good and bad years. Every time you come back and say, 'Things are difficult. Can we afford to have this little clinic out there?' They say, 'That's what you're all about. You figure that out.' "
The sisters counter that "sometimes necessity is the mother of invention." Avera has become an international leader in delivering care through telemedicine, for example.
"A community might approach us and say, 'We want Avera to help us out,' so it's actually helped the whole Avera system be creative in meeting those needs," Kolecka said.
The sisters look at "the whole picture," Welbig added.
"There's give and take. We share in that. It's centralization. We share in the financial stewardship," she said. "I think the regional CEOs have a lot of give and take in that. We might come back to John and say, 'This is our mission. There must be a way we can figure it out.' We're not ready to give up or not trust in God and have faith we can make this all work with everybody contributing to it."
Servant leadership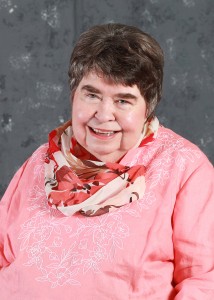 Reichelt is a morning person.
Sister Joan Reichelt is the only religious member of Avera's leadership team. (Photo: Submitted image)
She's typically at work by 6 a.m. in an office at Avera's headquarters off West 69th Street four miles east of the farm where she grew up and decided to enter Presentation Convent in 1955. She was 17 years old.
"You've heard of a child brides. I was a baby nun," she said. "I just always knew I was going to be a sister. I just knew it."
Reichelt wanted work as a nurse but "that was during the days they told us what we were going to be," she said. "They told me I was going to be a medical technologist. I didn't know what that was."
She got her degree in medical technology from Northern State Teacher's College and worked as a medical technician for 17 years. Still wanting to be a nurse, she asked to go back to school and got an associate nursing degree from Presentation College before spending six years on the surgical floor at Avera St. Luke's.
From 1990 to 1998, she served in the leadership of Presentation Convent. When her second term was up, she moved to Sioux Falls to become vice president of culture – a new role at Avera.
"I'm not that professionally ambitious," Reichelt said. "For me, it's just what I do out of love for our health ministry. I'm not climbing a ladder … but I just keep at it because I feel it's my call."
Her days are stacked with meetings. She once came into a leadership meeting hiding a stuffed bear on her lap. It made a snoring sound when she pushed a button.
"John (Porter) kind of got off on one of his long, long talks, and he just didn't stop," she said. "So I pushed the button and the bear started to snore. John kind of looked. Finally, everybody started to snicker. He stopped and he said, 'Joan?' "
Moments of levity aside, Porter remembers Reichelt welcoming him by opening his door and telling him they would have an open-door policy between them. He walks by her office every morning. She usually has been there an hour already.
"It's like kids coming home from a date or something and mom or dad is still sitting up in the living room. It's a fabulous relationship."
Deb Fischer-Clemens, Avera's senior vice president of public policy, seeks Reichelt out for advice and insight.
"She's very thoughtful. I just go down to her office to talk about issues I'm dealing with, policy issues, and just have a conversation to talk about how she sees those things and how I see them impacting Avera," Fischer-Clemens said.
"Even in the most serious conversations, she can take it to a different point, so we can see it differently, and she brings humor to the process. She's very wise. She's never hesitant to take part in a discussion or an issue and always is willing to listen."
Reichelt has been known to stop meetings and call for prayer. Sometimes she gets "a little sharp." Neither happens often, she said.
"Sometimes, they need a little reminder of what we're all about and why we're here and why we're doing things the way we do them. That's my role. To call the mission to their minds. We're a big business. We are not denying that. But we're a business within a ministry, and the ministry always comes first."
Future focus
There are 89 Benedictine Sisters and 73 Presentation Sisters from the two communities that became Avera. The sisters estimate the youngest is in her early 30s. There are efforts to offer formation education online or out of state, but no one is banking on an influx of new nuns.
So part of the sisters' mission is envisioning a future without as many of them guiding the health system. They have started programs within Avera to help teach the mission to employees and upcoming leaders.
"We might not have a number of sisters available to be sponsor members or serve on the board," Welbig said. "We're looking at who our laypeople might be that we might call forth to be sponsors and system members with us. We're looking at key people who have served on our boards, served as employees, community members we've associated with and looking at ways to do formation training."
Avera has applied to the Vatican to use a public juridic person, or alternative sponsorship arrangement, should the need arise. The model has been in use in the U.S. for decades, Porter said, but it requires approval from the pope.
"It's not like next year, but 20 or 30 years from now the day may come where there just aren't enough of the original sponsors that they could carry on," he said. "It's a vehicle for continuation of the work the sisters have done for well over 100 years, so that would be our vision going forward."
In the short term, however, there is no slowing of the sisters' commitment to their mission. For the first time, two sisters became registered lobbyists in Pierre this year, advocating to expand Medicaid.
"They aren't going anywhere. They like to stay very much involved," Porter said. "They will be there long after I'm gone."
Reichelt is known for saying she won't retire until after Porter does. Neither is in a hurry to leave.
"I feel like if I wasn't here as the only sister in this (leadership) group, something would be lost," Reichelt said. "To them, I think I'm a symbol. And I don't want to give that up. It's just all for God. If I wasn't effective, I think they would ease me out. That could happen. But I don't see that happening."
Welbig was at a concert recently when a man stopped her. He knew she was a nun and was grateful for a personal experience with Avera, she said.
"As he was ready to leave, he said, 'Sister, how can I pray for Avera?' Well, that question took me by surprise," she said.
"I said, 'You can pray we remain faithful to our mission of caring for the poor and sick and marginalized and that we stay focused and mindful our ministry is part of the healing ministry of Jesus.' "
The man answered Welbig, "I will do that."
The other sisters nodded as she retold the conversation, and one spoke.
"That kind of sums this story up, doesn't it?"
They all agreed.