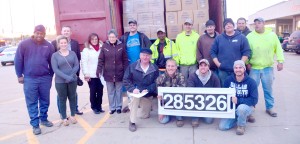 285, 326 meals are officially on the way to Zambia, Africa! Soukup Construction and some students from O'Gorman helped the Presentation Sisters and Kids Against Hunger Sioux Falls load the truck of packed meals . Each Kids Against Hunger packed bag contains four dry ingredients that create six nutritious meals that can be prepared by simply adding boiling water. This entire project takes so many partners working together. It is wonderful to think of all of those who will be served in such a great time of need. We pray that the food arrives safely and swiftly, may it help provide nourishment and hope to those who need it most!
The Presentation ministries respond to immediate needs and are far-reaching to change the future of these individuals and, through them, all of Zambia. The primary purpose of Sister Virginia's ministry in Kaoma, Zambia, Africa and surrounding area is to assist the people in becoming self-sustainable. Her sewing, fishing and farming projects help to alleviate the root cause of poverty by teaching people to help themselves through various forms of education and sustainable projects.
Sister Deb's ministry offers youth and adults spiritual, educational and life skill building opportunities. Through mentoring, tutoring and providing resources, the Presentation Sisters assist the teachers and students to make the most of the education system. Through additional educational opportunities, the Presentation Sisters hope to give Zambian people the opportunity to reach their full potential, lead better lives and inspire future generations.
Over 47% of the children in the sub-Saharan Africa nation of Zambia are malnourished because of a persistent lack of nourishing food. Kids Against Hunger provides, on average, 10,000 meals a day, every day.

Watch Sister Mary Thomas interview on the KDLT morning show regarding the Sisters partnership with Kids Against Hunger