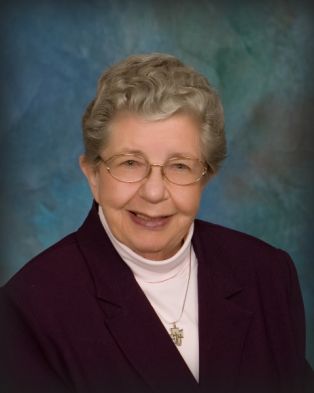 SERVICES for OUR DEARLY DEPARTED
SISTER ABBIE KENNEDY
Born to Life – January 8, 1930
Born to Eternal Life – October 28, 2015
GREETING the BODY 4:00 PM – Sunday, November 1, 2015
WAKE SERVICE 7:00 PM – Sunday, November 1, 2015
RESURRECTION LITURGY 11:00 AM – Monday, November 2, 2015
Presider: Rev. Joseph Sheehan
View more about Sister Abbie HERE
The Mass of Resurrection for Sister Abbie Kennedy, 85, will be November 2, 2015 at 11:00 a.m. in Blessed Sacrament Chapel at Presentation Convent, Aberdeen, SD. Reverend Joseph Sheehan will be celebrant and homilist. A memorial service will be Sunday, November 1, at 7:00 p.m. in the Blessed Sacrament Chapel. Visitation and signing of the guest book will be from 4:00 to 7:00 p.m. Sunday, November 1.
Sister Abbie Kennedy, 85, a Sister of the Presentation of the Blessed Virgin Mary, died October 28, 2015 at Presentation Convent, Aberdeen, SD.
Spitzer-Miller Funeral Home, 1111 S Main Street, is in charge of arrangements. Inurnment at Sacred Heart Catholic Cemetery.
Abbie Margaret Kennedy was born January 8, 1930 in Ekalaka, MT to Rose (Winchell) and Wilfred Kennedy. She attended grammar school in Ekalaka and then graduated from eighth grade in El Cerreto, CA. She graduated from Sacred Heart High School in Miles City, MT in 1948. Abbie entered Presentation Convent September 8, 1948 and made her first profession of vows August 10, 1951.
Sister Abbie (once known as Sister Dolorosa) taught in the diocesan elementary schools at Humboldt, Woonsocket, Dell Rapids, Huron, Mitchell, Sioux Falls, Jefferson ,Milbank ,SD and Miles City, MT from 1951 to 1983. She also ministered at St. Lawrence Parish, Milbank from 1983 to 1998 and then at Avera McKennan Nano Nagle Inn as Innkeeper from 1998 to 2004. Sister Abbie came to Aberdeen in 2004 working as a volunteer at Avera St. Luke's Guest House until 2007.
Sister Abbie is survived by her community family of Presentation Sisters; one sister, Catherine Whitney, Miles City, MT, nieces, nephews and cousins.
She is preceded in death by her parents Rose and Wilfred Kennedy, on brother, Thomas and one sister, Mary Fletcher.
Preferred memorial gifts to Presentation College.