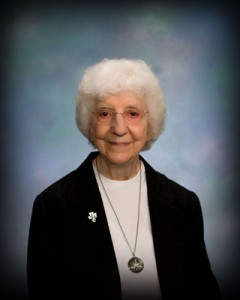 SERVICES for OUR DEARLY DEPARTED
SISTER HELEN NEMMERS
Born to Life – May 21, 1922
Born to Eternal Life – November 3, 2015
GREETING the BODY       4:00 PM – Sunday, November 8, 2015
WAKE SERVICE                7:00 PM – Sunday, November 8, 2015
FUNERAL LITURGY          11:00 AM – Monday, November 9, 2015

Presider:       Rev. Joseph Sheehan
The Mass of Resurrection for Sister Helen Nemmers, 93, will be Monday, November 9, 2015 at 11:00 a.m. in Blessed Sacrament Chapel at Presentation Convent, Aberdeen, SD. Reverend Joseph Sheehan will be celebrant and homilist. A memorial wake service will be Sunday, November 8 p.m. at 7:00 p.m .with visitation from 4:00 to 7:00 p.m. in Blessed Sacrament Chapel
Sister Helen Nemmers, a Sister of the Presentation of the Blessed Virgin Mary, died November 3, 2015 at Presentation Convent, Aberdeen, SD. Spitzer-Miller Funeral Home, 1111 S Main Street, Aberdeen is in charge of arrangements. Burial will be at Sacred Heart Catholic Cemetery.
Helen Catherine was born May 20, 1922 to Magdelene (Roeder) and Joseph Nemmers in Granville, IA. She attended St. Mary's elementary and high school in Dell Rapids, graduating in 1940. Helen Catherine entered Presentation Convent September 1, 1941 and made her first profession of vows August 10, 1944.
Sister Helen (once known as Sister Urban) earned a Bachelor of Music Education and History degree at Alverno College, Milwaukee, WI in 1963 and a Master of Music Education degree at Catholic University of America, Washington, DC in 1970. She taught music and choir at schools in Humboldt, Aberdeen, Madison, Sioux Falls and Dell Rapids, SD plus Willmar and Anoka, MN from 1945 until 1977. She was director of Religious Education at Guadalupe Parish, St. Paul MN (1979-1980) . In 1980 Sister Helen went to Guerrero, Mexico where she served as a catechetical missionary for 17 years. In 2002-2007 Sister Helen became part of the team working at Caminando Juntos, the Hispanic ministry in Sioux Falls. She retired to the motherhouse in Aberdeen in 2009. Sister Helen co-authored two books "17 Years in Mexico" and "17 Years in Mexico: A History in Pictures".
Sister Helen is survived by her community family of Presentation Sisters, one sister Charlotte Nemmers Hinricher, one brother, Quintin, Dell Rapids, SD and many nieces and nephews. She is preceded in death by her parents Magdelene and Joseph Nemmers, 3 sisters, Mary Page, Florence Ginsbach, Sister Gertrude Nemmers, PBVM, and 7 brothers, Reverend Leonard, Reverend Charles, Urban, Aloysious, Arnold, Roman, and John Nemmers.            
Active pall bearers will be nephews of Sister Helen.