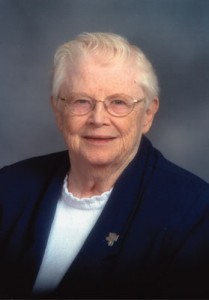 Sister Lucy Callaghan, 86, a Sister of the Presentation of the Blessed Virgin Mary, died October 22, 2015 at Avera St. Luke's Hospital, Aberdeen, SD.
Mass of Christian Burial for Sister Lucy will be Monday, October 26, at 11:00 a.m. in the Blessed Sacrament Chapel at Presentation Convent, Aberdeen, SD. Father Dan Juelfs will be celebrant and homilist. Burial of cremains will follow at the Sacred Heart Cemetery.
A Scriptural Wake Service will be Sunday, October 25 at 7:00 p.m. in the Blessed Sacrament Chapel. Visitation begins at 4:00 p.m. Spitzer-Miller Funeral Home, 1111 S Main Street, is in charge of arrangements.
          Lucy Marion Callaghan was born July 17, 1928 at Westport, SD to Adelaide (Daly) and Charles Callaghan. She graduated from Notre Dame High School in 1946 and St. Luke's Presentation School of Nursing, in 1949. Lucy entered Presentation Convent May 22, 1950 and made her first profession of vows August 10, 1952 taking the name Sister Mary Dismas. She earned her Bachelor of Science Degree in Nursing from Creighton University, Omaha in 1949, a Master's Degree in Nursing from Wayne State University, Detroit in 1970 and a CPNP from Washington University, Washington, DC in 1976.
          Sister Lucy served as instructor and supervisor of surgery at McKennan Hospital, Sioux Falls, SD, and a nurse in pediatrics at St. Joseph Hospital, Mitchell, SD and Holy Rosary Hospital, Miles City, MT. from 1952 to 1968. From 1971-1974, Sister was Assistant Professor of Nursing at Augustana College, Sioux Falls, and then served as a Pediatric Nurse Practitioner in Vicksburg, SC for 3 years.   She was Assistant Professor of Nursing at the University of South Carolina, Columbia, in 1978; Washington Medical School in St. Louis from 1978-1980, the University of Kansas, Kansas City, Mo 1980 to 1986; and at Loyola University, New Orleans, 1986 – 1999. Sister spent time in Sioux Falls and came to Aberdeen in 2001. Sister Lucy loved children and spent her life serving others in the health care ministry.
Sister Lucy is survived by her community family of Presentation Sisters; one niece Marcia (Dale) Hochhalter, and five nephews, George Callaghan, Clint Siemons, Father Dan, Greg and Vince Jeulfs.
She is preceded in death by her parents, Adelaide and Charles Callaghan, one sister, Leone Juelfs and two brothers, George Patrick and Daniel Joseph Callaghan.