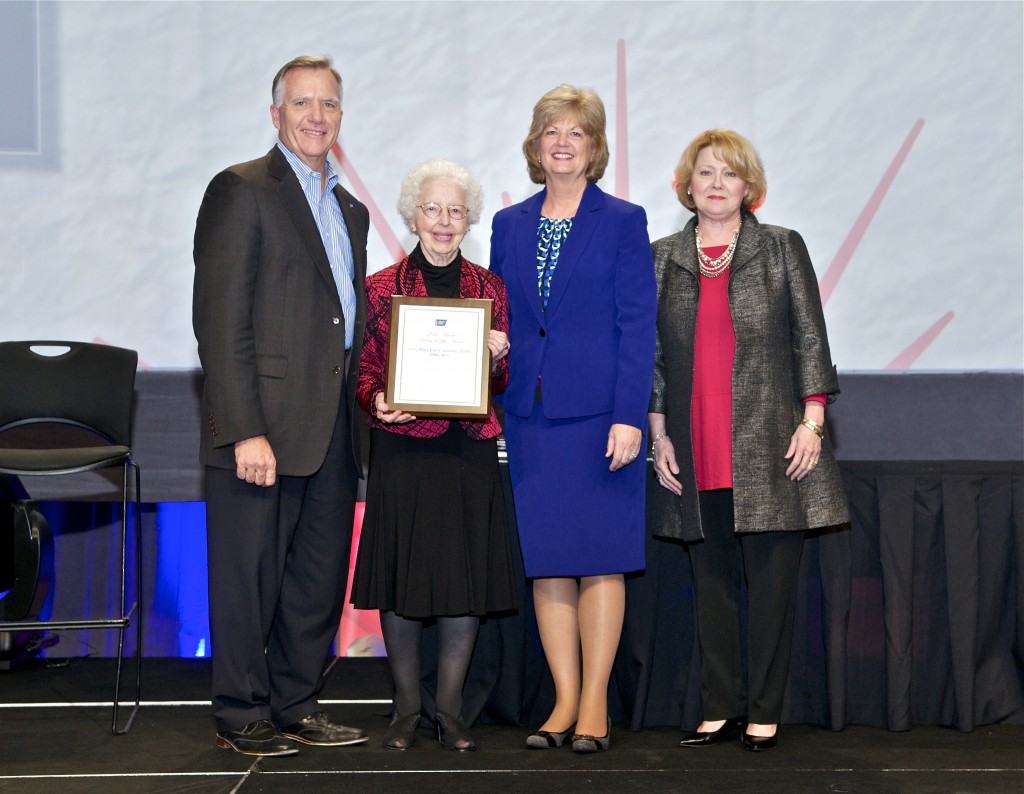 American Cancer Society Honors Sister Elaine Goodell from Memorial Sloan Kettering Cancer Center
with Lane W. Adams Quality of Life Award
~ The award honors individuals
who provide excellent cancer care
The American Cancer Society recognized Sister Mary Elaine Goodell, PBVM, DMA, BCC, with the American Cancer Society Lane W. Adams Quality of Life Award, a prestigious national honor for cancer care and commitment.
The Lane W. Adams Quality of Life Award recognizes individuals who consistently exhibit excellence and compassion in providing care to cancer patients, going beyond their duties to make a difference in the life of cancer patients and their families. This award also represents the concept of the "warm hand of service," which is an integral part of the Society's commitment to excellence in cancer care and specifically emphasized by Lane W. Adams when he served as executive vice president of the American Cancer Society. Lane's definition of the warm hand of service was to "serve others and enrich the purpose of one's existence."
The award was presented during a ceremony in Atlanta on January 13, 2016.
Sr. Elaine was one of ten recipients to receive the award this year.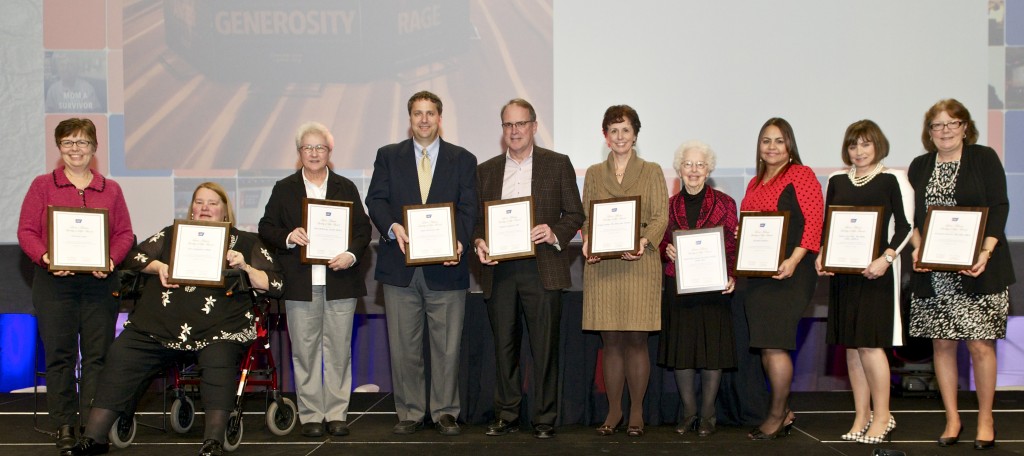 "These extraordinary awardees deserve to be recognized for their efforts to improve the quality of care for cancer patients and their families," said Susan D. Henry, LCSW, chair, Lane Adams Quality of Life Award Workgroup. "These individuals represent personal and professional excellence and they provide critical leadership in the American Cancer Society's mission to serve those who are touched by cancer."
Sr. Goodell decided to become a certified chaplain at age 60 when looking for something to do in retirement. She has spent the last 30 years bringing much needed calm and support to patients facing surgery as an employee of HealthCare Chaplaincy Network assigned to Memorial Sloan Kettering Cancer Center in New York. Sr. Elaine strives to visit and offer prayer and comfort to the nearly 40 to 60 patients per day no matter the patient's faith or religious affiliation. She never leaves for the day as long as there is a patient waiting to be seen. She is highly respected for her chaplaincy skills and much loved by her patients and colleagues. She continues to make patients her daily priority.
The Society has recognized cancer caregivers through the Lane W. Adams Quality of Life Award since 1988.
About the American Cancer Society
The American Cancer Society is a global grassroots force of 2.5 million volunteers saving lives and fighting for every birthday threatened by every cancer in every community. As the largest voluntary health organization, the Society's efforts have contributed to a 22 percent decline in cancer death rates in the U.S. since 1991, and a 50 percent drop in smoking rates. Thanks in part to our progress; 14.5 million Americans who have had cancer and countless more who have avoided it will celebrate more birthdays this year. We're determined to finish the fight against cancer. We're finding cures as the nation's largest private, not-for-profit investor in cancer research, ensuring people facing cancer have the help they need and continuing the fight for access to quality health care, lifesaving screenings, clean air, and more. For more information, to get help, or to join the fight, call us anytime, day or night, at 1-800-227-2345 or visit cancer.org.