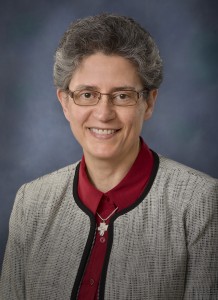 January 6, 2015
Wednesday after Epiphany
Take courage, it is I, do not be afraid. Mark 6:50
Well, it might be easy for Jesus to say "Don't be afraid" but like the disciples I have never seen anyone walk on water that was not frozen! Strange sights, overwhelming encounters lend themselves to a fearful response. Our first reading also speaks to fear and how perfect love drives out fear. Safe to say I am still on the journey to perfect love!
Until the day of perfect love we can be attentive to how we manage the "gaps" we encounter on any given day. Are there encounters that elicit fear – you bet. And are there encounters that inspire love and how do we use both to keep perspective – fear at the service of preserving life while not relinquishing what makes us fully human and fully alive. Love is manifested in goodness, truth and beauty. As a global community, what is a thoughtful response to the unprecedented number of refugees across the world? We must let our actions be informed by love, not unachievable standards for safety, prudent wisdom, not stereotypes. Might real physical harm be done? It is possible. Might retreating in fear cause real spiritual harm? The probability is higher. When our actions are informed by love we are not far from the Master regardless of the outcome. What is the deepest ground of our being? We must go there, respond from there if we are to come into the truth of who we are collectively.
I will end with a poem/prayer by Gerard Manley Hopkins As Kingfishers Catch Fire
As kingfishers catch fire, dragonflies draw flame…
I say more: the just man justices;
Keeps grace: that keeps all his goings graces;
Acts in God's eye what in God's eye he is –
Christ – for Christ plays in ten thousand places,
Lovely in limbs, and lovely in eyes not his
To the Father through the features of men's faces.
Take courage, it is I, do not be afraid.