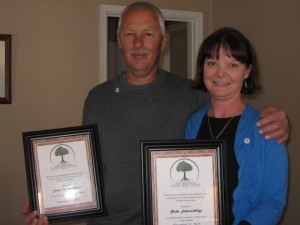 With joyful hearts, Sisters and Cojourners witnessed and pledged their support to two individuals as they became Presentation Cojourners. Ruth and Steve Scherschligt gathered with those in the Sioux Falls area for reception, for prayer, dinner and visits prior to attending Mass at St. Mary's Church. Father recognized the Sisters and Cojourners, and the Sisters renewed their vows following the homily in the presence of the parish. Many parishioners congratulated and thanked the Sisters after Mass.
Ruth and Steve Scherschligt completed the Cojourner orientation journey where they reflected the Presentation life, history, spirituality, mission and ministry with Sisters. In baptism, these individuals committed to live according to the Gospel and to spread the Good News of Jesus Christ. Now they feel called to joyfully do all of this in the spirit and mission of the Presentation Sisters as Cojourners.
A Presentation Cojourner is a baptized person of any faith who wishes to share the spirituality, values and mission of the Presentation Sisters. Cojourners and Sisters develop a partnership through visits, shared prayer and participation in congregational activities and gatherings. For more information on becoming a Cojourner, contact Sister Darlene Gutenkauf at 605-229-8315.