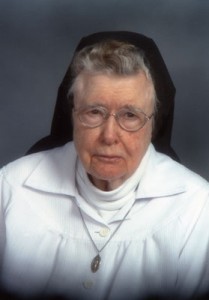 SERVICES for OUR DEARLY DEPARTED
SISTER Alacoque Geppert
Born to Life – June 4, 1919
Born to Eternal Life –September 15, 2016
GREETING the BODY       4:15 PM – Monday September 19, 2016
WAKE SERVICE                6:30 PM – Monday September 19, 2016
FUNERAL LITURGY          11:00 AM – Tuesday, September 20, 2016
 Presider:       Rev. Joseph Sheehan
Mass of Resurrection for Sister Alacoque Geppert will be Tuesday, September 20, at 11:00 a.m.  in Blessed Sacrament Chapel at Presentation Convent, Aberdeen, SD.  Father Joseph Sheehan will be celebrant and homilist. A Scriptural Wake service will be Monday, September 19 at 6:30 p.m. in the Blessed Sacrament Chapel with visitation from 4:30.
 Sister Alacoque Geppert, 97, a Sister of the Presentation of the Blessed Virgin Mary, died September 15, 2016 at Presentation Convent. Burial will be at Sacred Heart Cemetery with Spitzer-Miller Funeral Home, 1111 S Main Street, in charge of arrangements.
 Miriam Cecelia Geppert was born June 4, 1919 in Kimball, SD to Loretta (White) and George Geppert.  She attended elementary school in Kimball and graduated from Notre Dame High School in 1934.  After teaching two years in a country school and attending Northern State University specializing in science education, Miriam entered Presentation Convent December 8, 1939 and made her first profession of vows May 1, 1942 in 1945. She was the first registered physical therapist in South Dakota and was assigned to be the director of St. Luke's Physical Therapy Department in 1945, a position she held for 40 years until 1986. She received a Bachelor of Science Degree in physical therapy at St. Louis University, St. Louis, MO in 1951.  During the polio epidemics of the late 1940's and 1950's, Sister Alacoque played a major role in the care of physically handicapped patients.  She served as Local Director at Presentation Convent from 1986 to 1990 and then ministered at St. Luke's Hospital as Sacristan and Eucharistic Minister until 2001.
Sister Alacoque was chosen to be Aberdeen's "First Lady of the Year" in 1968 and was elected to the South Dakota Physical Therapy Association Hall of Fame in 1992. 
Sister Alacoque is survived by her community family of Presentation Sisters and  nephews, Donald Santel, Palo Alto, CA, Thomas Santel, St. Louis, MO and many cousins.  She is preceded in death by her parents, Loretta and George Geppert, one brother, George Aloysius and four sisters, Frances Bernita Geppert, Frances Irene Geppert, Isabella Geppert and Catherine Santel.
Donald Santel and Avera St. Luke's physical therapists will serve as casket bearers. 
Learn more about Sister Alacoque Geppert Here