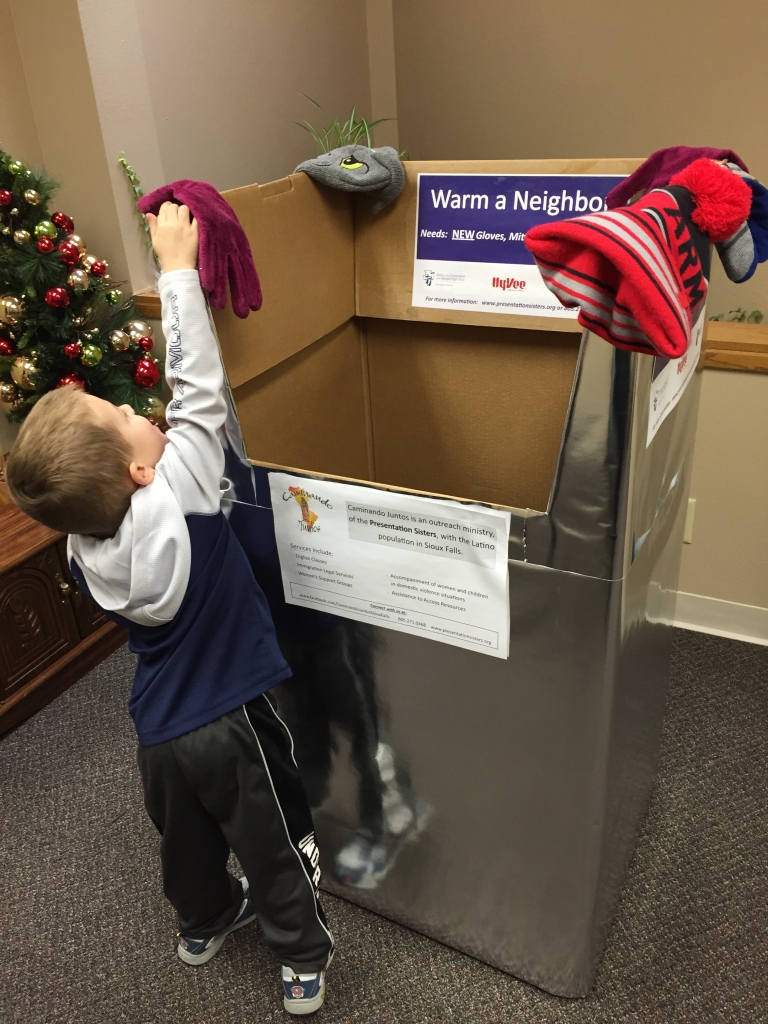 The Presentation Sisters willing go forth to any part of the world to work for justice, alleviate oppression and promote human dignity. This is done in a spirit of love and joy.
In the Sioux Falls area, the sisters serve a large Hispanic community through their Latino outreach ministry, Caminando Juntos (Spanish for walking together). The primary purpose is to help create a welcoming presence and respond to the needs of the newer Latino immigrants as they seek to integrate into this culture and make a home among us.
It has been found that many of the Hispanic people who relocate to Sioux Falls are not prepared for the harshness of the winter climate. They do not have warm gloves, mittens, hats, or scarves to wear. This month, Life 96.5 is teaming up with the Presentation Sisters and YOU to help provide cold weather accessories for the men, women and children who visit the ministry center for assistance.
If you would like to help, bring brand new warm gloves, mittens, hats or scarves in sizes for men, women, boys, girls, or infants to any of the SF Hy-Vee locations during the month of January. Also needed are new men's socks.
We encourage you to stop by one of the Hy-Vee locations listed below on Thursdays from 3-6pm during the month of January and visit our booth. We would love to visit with us about the Presentation Sisters and the Warm a Neighbor project.
Jan. 12th – Sioux Falls 57th and Cliff – 3pm-6pm
Jan. 19th – Sioux Falls South Minnesota – 3pm -6pm
Jan. 26th – Sioux Falls Marion Road -3pm-6pm
The Presentation Sisters have been joyfully serving the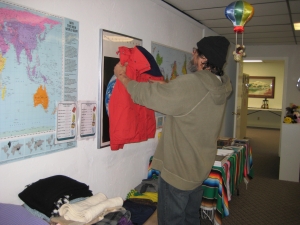 Dakota Territories since 1886. Caminando Juntos opened in 2002 and continues to grow as the population in Sioux Falls and the surrounding area becomes more diverse.
This project formed a partnership with Life 96.5, Hy-Vee and The Presentation Sisters in 2015. The project runs the month of January with the goal to help provide warm winter items to the newly arrived immigrants, many of whom are experiencing their first Midwestern winter.
Life 96.5: promotes the event, regularly on air to their listeners for the entire month of January.
Hy-Vee: provides the space for the collection of new hats, gloves, scarves, etc. to take place. Pictured to the right is an example of one of the collection boxes.
Presentation Sisters: responsible for coordinating the boxes and collection of the items.
Clients at Caminando Juntos (The Presentation Sisters Latino Ministry in Sioux Falls) are the recipients of the generosity of the community. Pictured to the left, Sister Janet Horstman assists a couple in need of some additional winter items.
Services at Caminando Juntos include:
English Classes
Immigration Legal Services
Accompaniment of woman and children in domestic violence situations

Assistance with access to resources and navigating the social system
To learn more, please contact Jen Rothenbuehler at: 605.271.0468 or jrothenbuehler@presentationsisters.org