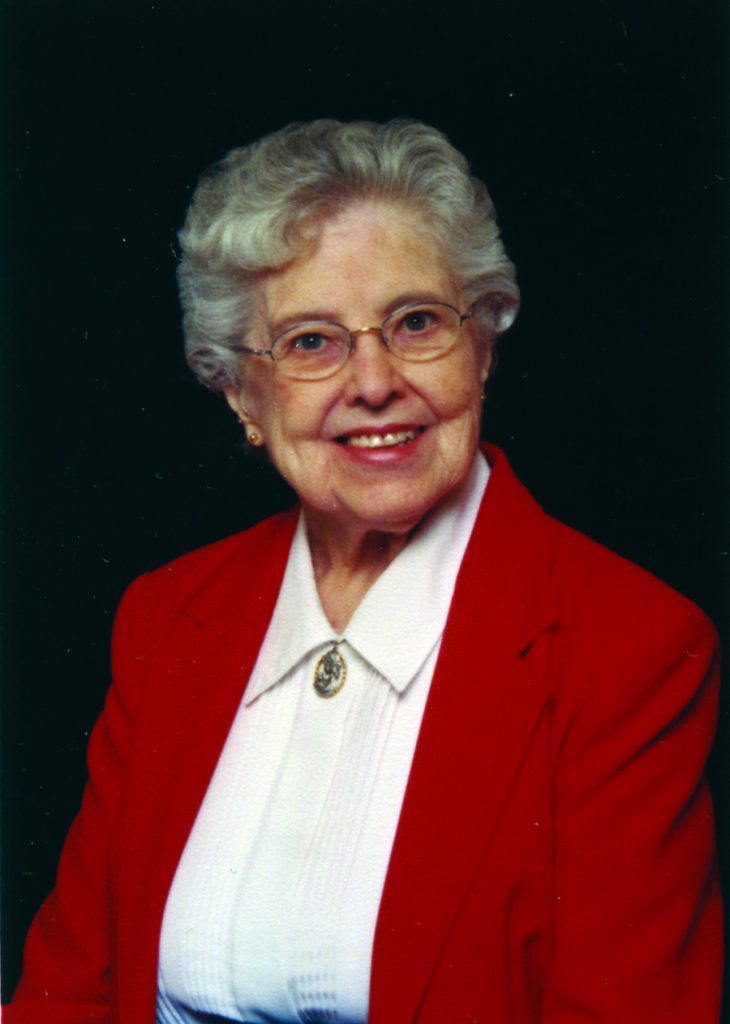 Services for Our Dearly Departed
Born to Life – April 16, 1923
Born to Eternal Life – July 6, 2016
Greeting the Body 4:00 PM – Sunday, July 10, 2016
Scriptural Wake Service 6:30 PM – Sunday, July 10, 2016
Mass of Resurrection 11:00 AM – Monday, July 11, 2016
Blessed Sacrament Chapel, Presentation Convent, Aberdeen, SD. Spitzer-Miller Funeral Home, 1111 S Main Street, Aberdeen is in charge of arrangements. Burial will be at Sacred Heart Catholic Cemetery.
Read more about Sister Ancilla here
Mass of Resurrection for Sister Mary Ancilla Russell will be Monday, July 11, 2016 at 11:00 am in Blessed Sacrament Chapel at Presentation Convent, Aberdeen, SD. Reverend David Janes will be celebrant and homilist. Visitation begins at 4:00 pm Sunday, July 10 with Scriptural Wake Service at 6:30 pm in Blessed Sacrament Chapel.
Sister Ancilla Russell, 93, a Sister of the Presentation of the Blessed Virgin Mary, died July 6, 2016 at Presentation Convent, Aberdeen, SD. Burial will be at the Sacred Heart Cemetery with Spitzer Miller Home, 1111 S Main Street, Aberdeen, SD in charge of arrangements. Nephews and Nieces will serve as active pall bearers.
Marian Jean Russell was born April 16, 1923 in Britton, SD to Sarah Cordella "Cora" Malloy Russell and Charles Edmund Russell. She attended Britton Public Grade School and graduated from Britton High School in 1941. She worked in Cora Russell's beauty shop in Britton after graduation. During the war she was trained and worked as an inspector for the Army Air Force.
On January 6, 1947, she entered Presentation Convent and made her first profession of vows on August 10, 1949. Sister Ancilla received a Teaching Certificate from Notre Dame Jr. College, Mitchell, SD in 1950, earned a Bachelor's Degree in Education from Northern State University in 1963, a Master's in Communication Arts from the University of Notre Dame, South Bend, IN in 1969 and did graduate studies in Theology at St. Louis University, St. Louis, MO in 1976.
Sister Ancilla spent 35 years as an educator, teaching students of all ages from second grade through post-secondary in Anoka and Willmar, MN, and Sioux Falls, Madison, Aberdeen, Mitchell and Dell Rapids, SD as well as serving as an English Instructor, Coordinator of Interdisciplinary Education and Chair of the Humanities Division, Presentation College, Aberdeen, SD.
In 1985, Sister Ancilla began ministering as a hospital chaplain at Memorial Medical Center, Springfield, IL and Avera St. Luke's Hospital, Aberdeen, SD for 17 years. On her 80th birthday, Sister Ancilla retired from active ministry to become a volunteer at both Presentation College and Avera St. Luke's Hospital.
Sister Ancilla is survived by her Presentation Community of Sisters, Aberdeen, SD, many nieces, nephews and cousins. She is preceded in death by her parents; Cora and Charles E. Russell; two 
brothers, Charles F. "Kelly" and Richard; three sisters, Muriel McHugh, Elizabeth and Regena Russell.