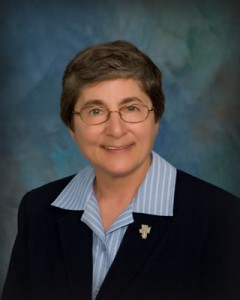 Written by Sister Lynn Marie Welbig, PBVM, and published on the Avera website

Thomas Merton, one of my favorite authors, says this. Our minds are like crows. They pick up everything that glitters, no matter how uncomfortable our nests get with all the metal in them. When I first read that, I thought it was about hoarding 'stuff' as we are prone to do. Then I noticed it is about cluttered minds, minds that pick up everything that glitters.
These days we are being black-washed
[as distinct from white-washed] with electioneering and vote-marketing. Well oiled PACs and over-promising candidates are flooding the media and our minds with all kinds of glittering, metallic sound bites.
A principle of social responsibility is the obligation to participate in ordering our society for the common good of all, as opposed to forwarding personal self-interest. One of the challenges of socially responsible participation is to be informed, to know what is really going on.
Perhaps a meaningful pursuit for Lent is to fast from the metallic glitter and to listen to new sources of information. Knowing the Holy Spirit's finesse, I expect the scriptures during Lent will shed the light of faith on the complexities buried in the choices that face us. "Rend your hearts" these 40 days, we are told. Lets try praying by way of open-faced conversations with God about rending, tearing open our hearts and exposing those metallic glitters to which we are attached. [If you think you don't have them, look in the bottom of your mental nest!] A timely 'fasting' is to shove our biases out of the nest, our absolute rightness in our own political views, and ask that the light of the gospel may line our nests.
Sister Lynn Marie Welbig, PBVM
Board member, Avera St. Anthony; Avera Sacred Heart; Prairie Heart Guesthouse, Avera Heart Hospital
Leaders in Ministry core team
For additional prayers and reflections visit the Catholic Health Association's website or subscribe to receive daily scripture with a reflection and prayer written by a colleague of Avera.